Military and First Responder Program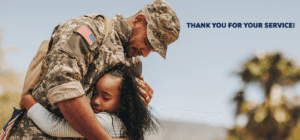 The Volkswagen Military and First Responders Program is our way of saying thank you to those who serve our country and communities. With this program, Military and First Responders are eligible for a
$500 bonus towards a new Volkswagen vehicle.
Eligible Vehicles
New, unused Volkswagen models (excludes Golf R models).
Eligibility
The following customers and their family household members are eligible for the program:
Active Duty U.S. Military (Army, Navy, Air Force, Marines, National Guard, Coast Guard, and Active Reserve)
U.S. Military Veterans
U.S. Military Retirees
First Responders (Police Offer, Sheriff/Sheriff's Deputy, Correctional Officer, State Trooper, Federal Law Enforcement Officer, Firefighter, EMT, Paramedics)
If you would like to learn more about the Military & First Responders Program, please contact us and one of our sales associates will be happy to answer any questions you may have!
Volkswagen of Orange Park recognizes the sacrifice and dedication our Military and First Responders take every day to protect this country and their community. As a thank you, Volkswagen of Orange Park is offering an extra $500 off any new Volkswagen for active, retired, and veteran military personnel and first responders, as well as any family member residing in the same household.